"Big Savings for Two" Whale Watch & Accommodation Package
Mariner Cruises offers a whale watch and accommodation package with the Bay of Fundy Inn. Enjoy a whale watch tour and then explore Brier Island. Walk the village of Westport, hike along the rugged shores near lighthouses, go bird watching or see the seals on the coast then spend a relaxing night at the Bay of Fundy Inn.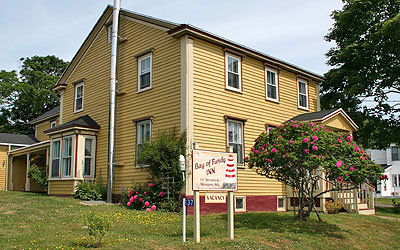 Your one night accommodation includes continental breakfast for two AND a Mariner Cruises whale and seabird tour of the Bay of Fundy; this 3 to five hour adventure can bring you up close to whales, porpoises, dolphins and a variety of fish and seabirds. It's a great opportunity to see one of the most unique ecological regions in the world and experience one of the most spectacular outdoor adventures in Canada.
The Cost : $175 plus applicable taxes (cannot be combined with any other discount or promotion).
To book the travel package, submit our reservation form and be sure to check the 'Big Savings for Two' check box. The staff of Mariner Cruises will contact you (within 48 hours) to confirm your reservation.
For additional information on our accommodations, please click here.